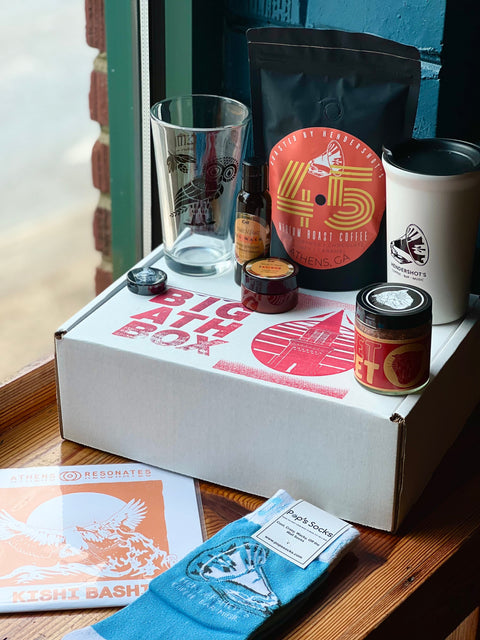 Big Ath Box
Introducing The Big Ath Box - a collection of unique items from small businesses in Athens, GA.
The Big Ath Box is a great way to discover and support small businesses in Athens, GA, all while getting a unique assortment of items that you won't find anywhere else. Each box is a unique surprise of goodies, ensuring that no two boxes are the same.

Past items included in The Big Ath Box have been a half pound bag of one of our house blends of coffee, a 12 oz copper-insulated travel mug (perfect for keeping hot drinks hot and cold drinks cold), a pair of Hendersocks from Pop's Socks, a tin of refreshing Hendermints, a pint glass from Akademia Brewing Company, a big bag of hot cocoa mix from Condor Chocolate, and a 7" commemorative vinyl from Athens Resonates, an organization supporting Nuci's Space and the Athens Boy and Girls Club.

Order your own Big Ath Box today and experience the best of Athens, GA!